Our Hotel Near Grapevine, texas – Comfort Suites Las Colinas
Raining? Bored? Just visiting Grapevine and trying to figure out what to do? Have a look below at list of attractions that you can spend some time at, no matter who you are with and what the weather is like outside. These are just a few of the top things to do in Grapevine, TX.
Grapevine Mills Outlet Mall
With over 20 anchors and over 200 specialty retailers, this outlet mall is sure to please everyone. There are themed restaurants, casual dining spots, and plenty of entertainment choices. A 30 screen AMC Theater is located near the food court. Enjoyed the joys of shopping in this climate controlled wonderland.
Great Wolf Lodge Waterpark
There are five large water slides; 2 have four person rafts and the others are individual inner tube slides. Still not enough? How about a wave pool, lazy river, water playground, and hot tubs for adults? This is a kid friendly park geared towards families, but adults fear not as there is an adult only side of the park as well.
Grapevine Lake
This beautiful lake (~8,000 acres) is located in the heart of Dallas/Fort Worth on the northern border of the City of Grapevine. It is wonderful for fishing, recreational boating, camping, hiking and much more. There are miles of trails surrounding the lake which are great for running, walking, hiking, and biking. There are also numerous parks cared for by the city of Grapevine located right on the lake. Many boat ramps surround the lake as well to get you out on the water for wind surfing, boating, fishing, water-skiing, or just relaxing.
Texas Star Dinner Theater
An award winning entertainment venue, this theater cooks up delicious food and puts on great shows. Currently playing at the theater is "A Cold Hearted Christmas." The show is running now through December 29th, 2012 with tickets for dinner and a show starting at $55 plus tax.
Grapevine Vintage Railroad
The Grapevine Vintage Railroad travels along the historic Cotton Belt Route Grapevine and the Fort Worth Stockyards. Hop aboard "Puffy" the 1896 steam locomotive, which is the oldest continuously operating steam engine in the South or a 1953 GP-7 diesel locomotive. Take a ride in authentic 1920s and 1930s Victorian-style coaches and take a step back in time to experience train travel as it was in the good ol' days of the West.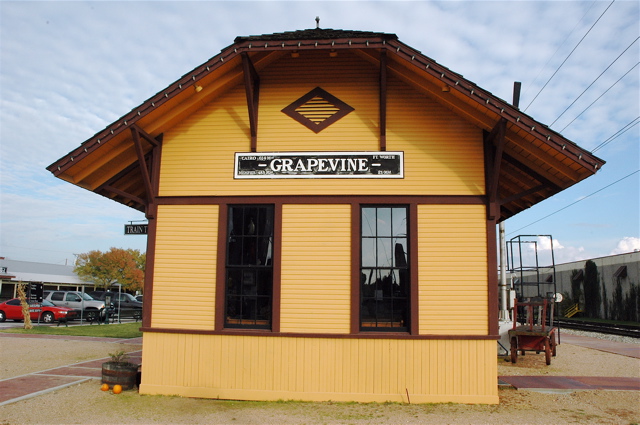 Legoland Discovery Center
This indoor attraction is attached to the Grapevine Mills Mall, that provides some solid family entertainment. Kingdom Quest is the first attraction that you will see upon entering. It's a knights 'n' castles-themed ride that snakes a four person car slowly through a winding path. Each rider is given a laser gun and encouraged to shoot goblins, spiders, and trolls that pop up on large video screens on the walls.
There is just so much to do and sometimes we just can't squeeze it all into one day. So what to do then? Don't drive around, but book a room at Comfort Suites Las Colinas.
Our Comfort Suites hotel is located minutes away from DFW Airport in the beautiful business park of Las Colinas. Our hotel has been recently renovated and offers the business traveler a great hotel lodging experience with all the business amenities that are essential to business travel. All rooms are spacious Suites that allow the capability to relax and work without the cramped feeling of a traditional hotel room, all at a very competitive price. We also cater to family vacations and romantic weekend getaways to the Dallas, TX area. Our location is convenient to Dallas' best attractions, business parks, theme parks such as Six Flags Over Texas, Dallas Cowboys Stadium, The Rangers Ballpark, dining, shopping, and much more. Overall the Comfort Suites Las Colinas provides comfortable hotel accommodations during your visit to the Dallas / Fort Worth area regardless of what brings you to the area!
The Comfort Suites Las Colinas is a convenient and budget friendly hotel choice for business and vacation travelers. Located near the Dallas Fort Worth International Airport, our moderately priced hotel offers comfortable rooms and a complimentary airport shuttle service that helps take the hassle out of airport travel. Stay at our newly renovated hotel and enjoy modern hotel features, free parking, and so much more, all just minutes away from DFW Airport and Dallas Love Field.
We'll see ya'll soon!
Comments are closed.